NCA Ranked Among First Five Best Organisation in HR Practice
NCA Ranked Among First Five Best Organisation in HR Practice
11th November, 2023: The National Communications Authority (NCA) has been ranked among the top five finalists in the category of "Best Organisation in HR Practice" at the HR Focus Awards. The ceremony took place on Thursday, 28th September, 2023, at the Accra International Conference Centre.
This recognition signifies the Authority's dedication to implementing innovative employee development, welfare programs, and staff capacity-building initiatives in collaboration with local and international training organisations over the years. It stands as a testament to the unwavering commitment of the Authority to nurturing talent, promoting diversity, and fostering a culture of inclusion.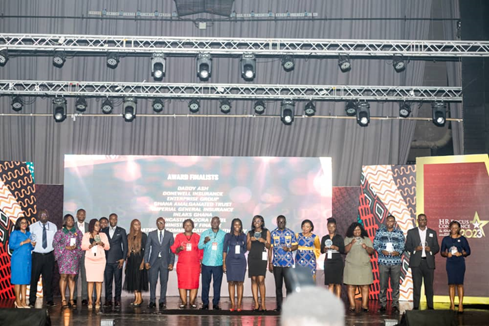 Director of Human Resource Division, Dr. Charles Amoah-Wilson with
other Awardees on stage
The award was received on behalf of the Authority by the Director of Human Resource Division, Dr. Charles Amoah-Wilson, and some staff of the NCA.
Dr. Charles Amoah-Wilson highlighted that the NCA has been at the forefront of implementing pioneering employee development and welfare programs, spearheading staff capacity-building initiatives in partnership with both local and international training organizations. He further explained that these accomplishments were strengthened by the establishment of a highly impactful boot camp for National Service personnel, featuring the Vice President of Ghana, Dr. Mahamudu Bawumia, as a keynote speaker during its inaugural launch in 2017.
The HR Focus Awards is an annual celebration of human resource excellence organised by HR Focus Africa under the theme "The HR Mandate: Building Resilient People and Businesses." It serves as a stage for HR practitioners and business leaders to convene, exchange insights, and navigate the ever-evolving landscape of work, channeling challenges into personal and business growth opportunities.
Management Staff and some staff posing with the award