Complaint Procedure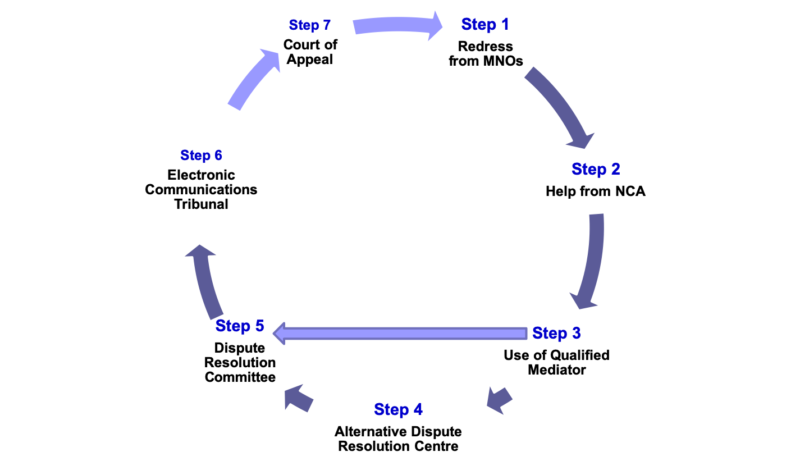 Redress From MNOs
Complainant has the right to seek redress from Mobile Network Operators (MNOs).
Help from NCA
A complainant has the right to lodge a formal complaint to the NCA for speedy resolution of complaint.
Use of a qualified Mediator
Where a complainant is not satisfied, redress may be sought by using a qualified mediator appointed by NCA .
Alternative Dispute Resolution Centre (ADRC)
Complaint is escalated to ADRC when mediation is unsuccessful per section 114 of ADRA Act, 2012 (Act 798).
Dispute Resolution Committee (DRC)
Complainants, who do not wish to make good of step 4, may per Reg. 117, L.I. 1991, complain to the DRC set up by the NCA Board.
Electronic Communications Tribunal (ECT)
Manages appeals against NCA decisions. Review issues in relation to Licences. Handles complaints against DRC. Membership appointed by Chairperson of the Public Service Commission.
Court of Appeal (CA)
Persons or organisations who are not satisfied with decisions made by the ECT may to appeal to the CA