NCA Collaborates with CSA to Hold Cybercrime and Cybersecurity Sensitisation for Staff
NCA Collaborates with CSA to Hold Cybercrime and Cybersecurity Sensitisation for Staff
15th November, 2023: The National Communications Authority (NCA), in collaboration with the Cyber Security Authority (CSA), held a sensitisation workshop on cybercrime and cybersecurity for its staff at the NCA Tower on 15th November, 2023.
The engagement was aimed at providing insights into the approaches adopted by various organisations in addressing cyber-related crime and ensuring cybersecurity.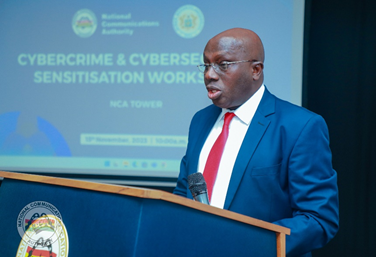 Prof. Ezer Osei Yeboah-Boateng, Deputy Director-General for Technical Operations,
NCA giving his remarks
Speaking at the event, Prof. Ezer Osei Yeboah-Boateng, Deputy Director-General for Technical Operations at the NCA, emphasised the critical need to enhance human capabilities in terms of knowledge and technical skills due to the significant surge in cyber threats and attacks. He mentioned that, as part of measures to address the skills gap, the NCA has actively worked on enhancing the capacity of its staff. The aim is for these capacity-building efforts to manifest in the Authority's internal practices, ultimately fortifying Ghana's overall cybersecurity. "It is anticipated that these capacity-building initiatives will be evident in the Authority's internal procedures, thereby bolstering the NCA's overall security," he stated.
Prof. Yeboah-Boateng outlined several measures aimed at ensuring cybersecurity within the telecom industry, highlighting the NCA's recent engagements with Mobile Network Operators (MNOs) and Undersea Cable Operators to assess their readiness for cyber challenges. He also mentioned the NCA's ongoing forensic audit exercise to verify the accuracy and integrity of the Central SIM Register and the SIM Registers maintained by the MNOs. Prof. Yeboah-Boateng cautioned that any operator found in breach would face full accountability under the law.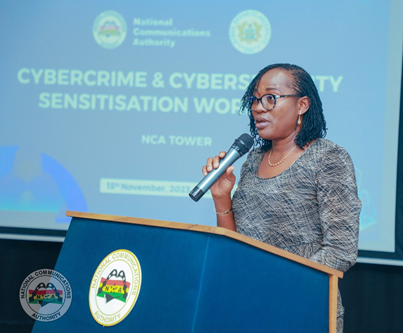 Mrs. Mercy Araba Kertson, Acting Director of Administration at the CSA,
speaking at the event
Mrs. Mercy Araba Kertson, Acting Director of Administration at the CSA, emphasised the significance of implementing effective cybersecurity measures in response to the increasing prevalence of digital technologies. She highlighted that while the internet provides convenience, it also exposes us to cyber threats, significantly impacting critical sectors like energy and telecommunications.
Mrs. Kertson revealed that between January and July 2023, cyber fraud activities have resulted in direct financial losses totaling 49.5 million Ghana Cedis for Ghana. This underscores the urgent requirement for increased vigilance in cybersecurity.
The workshop featured a panel discussion with expert speakers from various institutions, including Superintendent Emmanuel Eric Gyebi, Director of the Cybercrime Unit at the Criminal Investigations Department (CID) of the Ghana Police Service, Mr. Kobina Richardson, Head of Information Security Office at the Bank of Ghana (BoG), Mr. Maxwell Ababio, Head of Technology and Ethics at the Data Protection Commission (DPC), Mrs. Comfort Osae from the Economic and Organised Crime Office (EOCO), and Mr. Kweku Acheampong from the Financial Intelligence Centre (FIC).
The panel discussion focused on the activities and strategies being implemented by their respective institutions to safeguard cyberspace.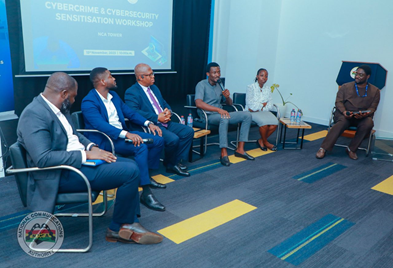 The Panelists sharing knowledge on the theme