University of Energy and Natural Resources (UENR) Students Gain Industry Insights from the NCA
University of Energy and Natural Resources (UENR) Students Gain Industry Insights from the NCA
10th November, 2023: The National Communications Authority (NCA) hosted Seventy-five (75) undergraduate students from the Department of Information Technology and Decision Sciences (ITDS), University of Energy and Natural Resources (UENR), on an educational tour at the NCA Tower on 10th November, 2023.
The visit was a step towards bridging the gap between industry and academia as it provided the students with the opportunity to experience the practical application of classroom theories.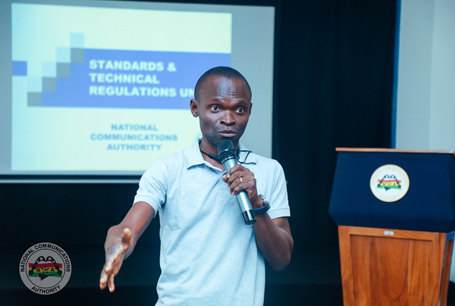 Dr. Roland Kudozia speaking at the event
To achieve the objective of the visit, detailed presentations on topical areas such as Type Approval, Digital Audio Broadcasting (DAB) and Spectrum Management were delivered. Among the NCA staff who engaged the students were Dr. Roland Kudozia (Senior Manager, Regulatory Administration), Mr. Raymond Sabogu-Sumah (Deputy Manager, Engineering), Ms. Christiana Attrams (Assistant Manager, Engineering) and Ms. Eunice Bempong (Assistant Manager, Consumer and Corporate Affairs).
Speaking on behalf of the Information Technology and Decision Sciences Department of UENR, Mr. Jacob Mensah extended his heartfelt gratitude to the NCA for facilitating this
educational experience. He also emphasized the importance of practical learning outside the classroom environment and stated that the knowledge shared has provided the students with opportunities for career choices.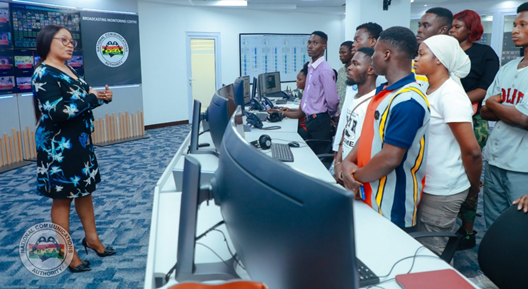 Students taking a tour of some of the NCA's regulatory infrastructure
The students had the privilege of touring the NCA-CERT, Broadcasting Monitoring Centre (BMC), and Communications Monitoring Centre (CMC). These tours provided them with the opportunity to witness the advanced facilities and cutting-edge technologies employed by the NCA in carrying out its mandate.
This educational visit underscores the NCA's commitment to fostering a stronger connection between the academic and professional worlds, equipping the next generation of Information Technology and Telecommunications professionals with the necessary insights and experiences to thrive in their future careers.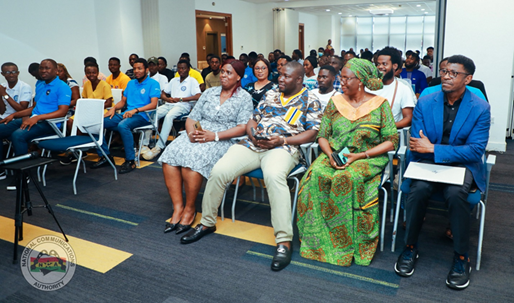 In attendance were some Management Staff of the NCA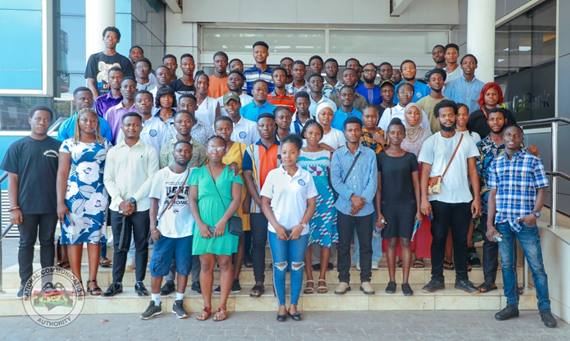 A group picture of the students