Mme Rahmata Issahaq-Pelpuo
Mme Rahmata Issahaq-Pelpuo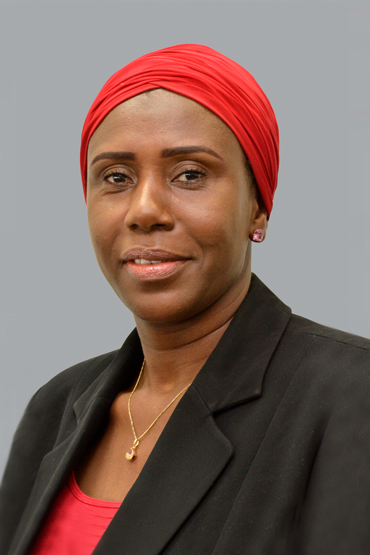 Avocate de profession, Mme Issahaq-Pelpuo a obtenu son baccalauréat en droit (LLB), de l'Université du Ghana à Legon, et a été appelée au Barreau du Ghana en 1999.
Rahmata est également titulaires d'une maîtrise en administration des affaires, d'une option de gestion des ressources humaines de l'Université du Ghana en 2008 et d'un certificat en valeurs mobilières et investissements de la Bourse du Ghana.
Rahmata a travaillé avec Paintsil, Paintsil &Co. en 2000 en tant qu'associé après un passage au ministère du Procureur général. Elle a mené des recherches juridiques approfondies dans différents domaines du droit, rédigé des propositions, des rapports juridiques et des recommandations pour tous les nouveaux cas et a fourni des conseils sur les questions de travail et d'industrie. Au cours de son mandat au sein de ce cabinet, Mme Issahaq-Pelpuo a fourni des services de conseil juridique à International Projeckt Consult, une organisation allemande impliquée dans la mise en place et la gestion de Sikaman Savings and Loan Company (maintenant connue sous le nom de ProCredit Savings and Loans).
Parmi ses réalisations, il y a la création du département juridique pour répondre aux besoins d'une institution financière non bancaire et ses précieux conseils au conseil d'administration sur les questions de gouvernance d'entreprise.
En 2002, elle a rejoint l'International Commercial Bank Ltd, où pendant neuf ans, elle a travaillé en tant que chef du département juridique et en tant que secrétaire de la société de la banque.
Rahmata est conseillère juridique bénévole pour la Fondation Annisaa et la Fédération des associations de femmes musulmanes du Ghana (FOMWAG).