NCA DG Closes 2022 NSP Boot Camp
NCA DG Closes 2022 NSP Boot Camp
The Director General of the National Communications Authority (NCA), Mr. Joe Anokye, had his turn at the just-ended Boot Camp organised as part of the training programme for the 2022/2023 batch of graduates undertaking their National Service at the NCA. Mr. Anokye's motivational session was held under the theme "Ownership and Conscientiousness".
With the passion to always empower the youth, Mr. Anokye seized the opportunity to inspire the NSP by focusing on the importance of building a culture of ownership and conscientiousness with responsibilities. He also shared his life experiences and concentrated on how he strived to be an exceptional employee during his time at the National Aeronautics and Space Administration (NASA).
Among other dignitaries that motivated the NSP during their training include the Air Vice Marshall (AVM) Frank Hanson, Chief of Air Staff.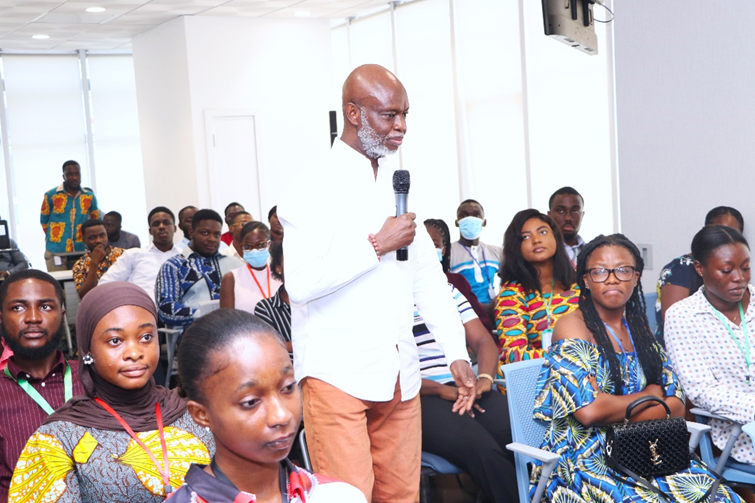 Speaking at the ceremony, Mr. Anokye stated that the key to being an excellent employee is taking ownership and being conscientious with responsibilities. "Taking ownership means holding yourself accountable for your work regardless of the results and demonstrating a genuine interest in contributing to company success," he said.
He further urged the NSP to be diligent by concentrating intently on assigned tasks and duties, as well as being responsible, hardworking, socially minded, disciplined, well-organized, goal-focused, and tenacious.
Mr. Joe Anokye further shared some of his experiences with NASA in the United States as a Telecommunications Service Manager, and his personal principles that have contributed to his success story.
The NSP had the opportunity to voice concerns and ask questions on career development and other related topics.