NCA Hosts University of Ghana Computer Science Students on an Educational Visit
NCA Hosts University of Ghana Computer Science Students on an Educational Visit
7th July 2023: The National Communications Authority (NCA) hosted ninety-five (95) Computer Science students from the University of Ghana (UG) on 7th July, 2023 on an educational visit at the NCA Tower. The visit, led by Dr. Edward D. Ansong, Cyber Security Lecturer at the University, aimed to provide the students with hands-on experience and practical knowledge about Networking and Cybersecurity within the telecommunications industry.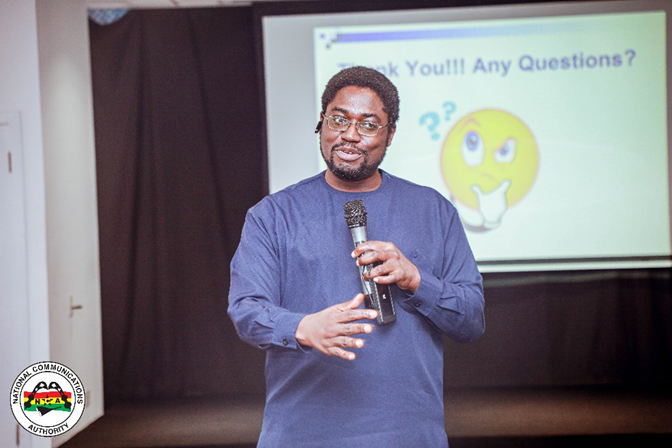 Mr. Kwadwo Osafo-Maafo, Chief Information Security Officer, NCA sharing knowledge with the students
Speaking at the event, Mr. Kwadwo Osafo-Maafo, Chief Information Security Officer at the NCA, shared valuable advice with the students regarding career paths. He emphasized the importance of not simply following the trend of cybersecurity but cultivating a genuine interest in the field. Mr. Osafo-Maafo highlighted that lack of enthusiasm often leads to difficulties and failure on the job. He therefore encouraged them to maintain a focused approach in order to achieve their goals and contribute to a safer cyberspace.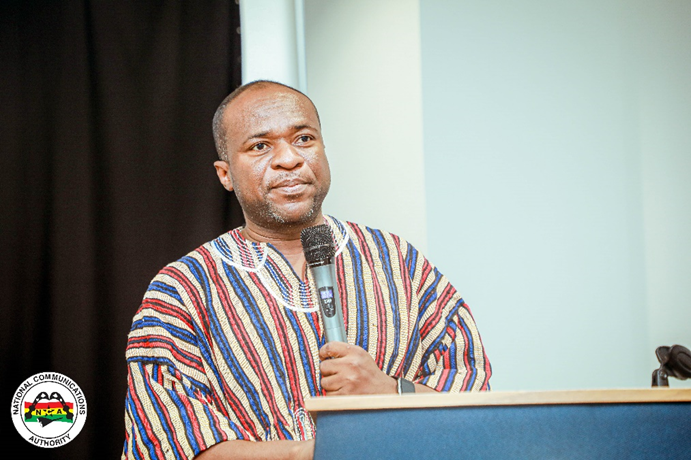 Dr. Edward D. Ansong, Lecturer, University of Ghana, speaking at the event
On behalf of the Computer Science Department of the University of Ghana, Dr. Edward D. Ansong, expressed gratitude to the NCA for hosting the students and providing them with such an enriching experience. He emphasized that the visit was part of the University's commitment to exposing students to the practical aspects of their course of study and offering them valuable opportunities to engage with industry experts.
The educational visit offered a platform for the students to gain comprehensive understanding of the NCA's mandate and its role in the telecommunications industry. The students were engaged through informative presentations that highlighted the role of the NCA Computer Emergency Response Team (NCA-CERT). Real-life examples were also shared, providing the students with valuable insights into the practical applications of the NCA-CERT's responsibilities.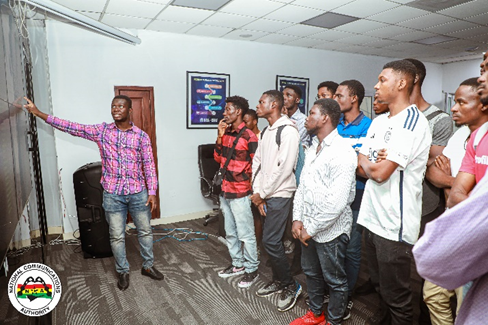 Students taking a tour of some of the NCA's regulatory infrastructure

The students had the privilege of touring the NCA-CERT, Broadcasting Monitoring Centre (BMC) and Communications Monitoring Centre (CMC). These tours provided them with the opportunity to witness firsthand the advanced facilities and cutting-edge technologies employed by the NCA in carrying out its mandate.
A group photograph of participants with some Management staff