<strong><u>NCA Organises 5<sup>th</sup> Conformance and Interoperability (C&I) Training Programme for ITU Members in the African Region</u></strong>
NCA Organises 5th Conformance and Interoperability (C&I) Training Programme for ITU Members in the African Region
The 5th Conformance and Interoperability Training programme for sister members of the International Telecommunication Union (ITU) in the African Region has officially begun. The training, which is being held virtually, started on November 21st and will end on November 25th, 2021. There are over thirty (40) participants from across the continent taking part in the training
Addressing the participants, Dr. Ezer Osei Yeboah-Boateng, Deputy Director General, Technical Operations (DDG-TO) at the NCA, stated that the NCA is pleased with the interest shown by the ITU and sister regulatory agencies around the world in Ghana's Type Approval system and laboratories. He further stated that it is crucial for regulators to improve their regulatory practices in this era of digital transformation.
Dr. Ezer indicated that in addition to the Authority's investment in infrastructure, the NCA has also devoted resources to enhancing the human resource competency of its staff, as indicated by the effective facilitation of prior trainings, and it is hoped that the current training will not be an exception.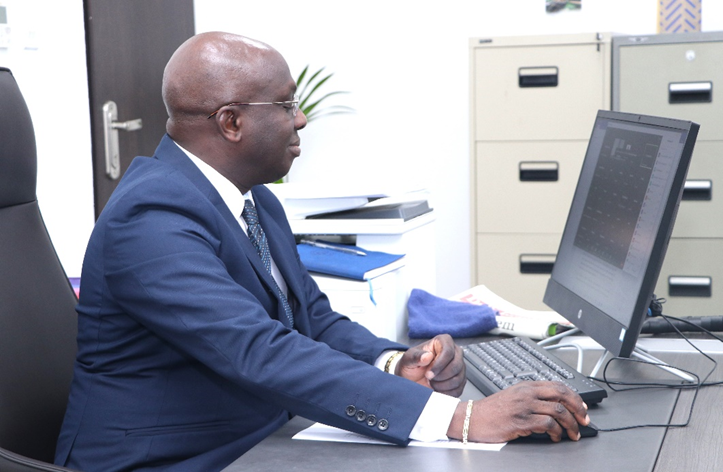 He also said that the NCA is known as a regulator that opens its doors to share knowledge with sister regulators both in person and online when necessary. "The goal of benchmarking is mostly met, and participants are encouraged to use the knowledge they gain in their own countries" He said.
Speaking at the virtual meeting on behalf of the ITU Director for Africa, Ms. Cynthia Maspisire thanked participants for taking part in this training and expressed gratitude for the longstanding relationship between the ITU and the NCA. She stated that promoting innovative and sound regulatory developments after the COVID pandemic has become paramount as a means of bridging the digital divide. This, she said, will enable secure and affordable connectivity for promoting digital inclusion, without which the digital divide will continue to widen.
She further called on sister members to develop and implement policies geared towards combating and dealing with counterfeit devices. "We all must fight to ensure that ICT equipment is in compliance with national, regional, and international standards, as this will increase market opportunities," she said.
This Conformance and Interoperability Training is being facilitated by staff of the NCA. The training will focus on the regulatory framework, requirements to set up a basic C&I Lab and the testing domains of Type Approval laboratories in SAR, RF, DTT, and EMF, including specifications and parameters for the specific laboratories.