NCA Introduces Shortcode for Checking SIM Cards Linked to a Ghana Card
1st May, 2023:The National Communications Authority (NCA) has introduced a new shortcode, *402*1#, that allows consumers to easily check the number of SIM Cards registered with their Ghana Card.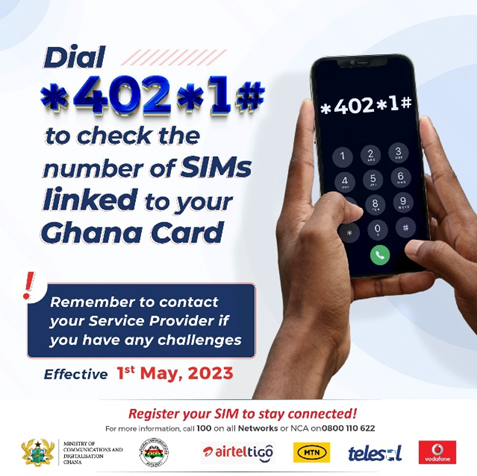 Consumers will be required to provide their Ghana Card PIN and Date of Birth for verification, following which an SMS with the list of numbers linked to their Ghana Card will be displayed.
This exercise is intended to help consumers identify any unknown number(s) linked to their Ghana Card, for which they can request a delinking from their Service Provider.
The NCA wishes to assure consumers that it will continue working closely with Mobile Network Operators to ensure that all SIM Cards are registered with valid identification documents, in accordance with Regulations.